About Dr.Sharvari Inamdar
Dr. Sharvari Inamdar completed B.A.M.S. & M.D. from Tilak Ayurved College, Pune. She started her profession as a teacher in T.A.M.V. Ayurved College, Pune. She has written a number of articles on several topics with a focus on developing a holistic outlook on health as described in Ayurved and changes to be brought about in today's lifestyle for a healthy living. She underwent the training in modern Nutrition and sports nutrition and has also completed the practical course of exercise programming and designing. She has vast experience in the field of treating women & Children with disorders. Being an athlete herself she can better understand needs of sports person. Being a mother of two kids gives her insight of day today strugle a woman goes through. Dr.Sharvari Inamdar is also working for SPORTS MEDICINE CENTRE & developed her own style of treatment through educating the patients so that they can heal themselves.
Dr.Sharvari Inamdar is a leading Nutrition Consultant who advises natural & practical,healthy living. Her smart eating techniques,easy to follow routine and expert personalized monitoring are what make her result oriented services best in th​e​ industry today. She belives that healthy lifestyle involves many choices; Among them, choosing a correct nutrition plan is a basic neccesary thing. So how do you choose a healthy eating plan? Let's Contact her for Which Health Plan exactly suites you.
Being empathetic to the patients' pain, understanding the physical, mental, emotional, spiritual and social aspects of health and well being and wanting to find a lasting solution to patients' problems. For any of your health problem for the best nutrition and exercise plan you can definately rely on her expert advice to get better.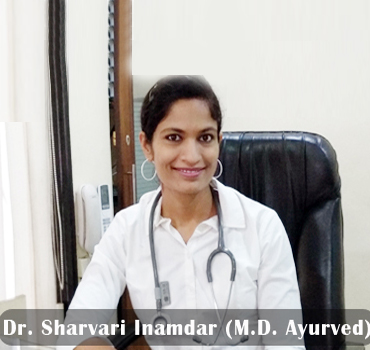 Overview
Dr.Sharvari Vaibhav Inamdar
M.D Ayurved
Swasthvritta
(Preventive aspect of Health and Nutrition from Ayurved, Yog, Naturopathy & Modern Medicine)
M.A. Sankrit
Diploma in exercise designing.
Diploma in sports nutrition.
Have completed Pune international half marathon (21 kilometres ) in 2 hr10min.
Winner of fire brigade marathon (10 kilometer).
Have done Pune to Goa bicycle ride.
Gold medal in Pune district and Maharashtra state powerlifting championship 2017,2018.
Silver medal in Maharashtra state open bench press championship.
Represented Maharashtra in 42nd national powerlifting championship held at Allepy (August 2017). (All of the above women's open 52 kg weight class)
Interview telicast : Sam TV (Psoriasis and Ayurved)
Currently practicing as: Ayurved physician, nutrition and exercise consultant Since last 12 yeras.(Sadashiv peth, Pune).
Faculty : Swasthvritta (Tilak Ayurved Mahavidyalay, Pune).
A proud mother of 2 kids.
Working in the field of Ayurved since last 12 years.
Faculty : T.A.M.V. Ayurved Colleage, Pune.
Conducted health camps.
Health Column Write Up For Newspaper.
Interview Telecasts for Skin Diseases, Female Health Problems.
Area of work: Nutrion advice for different medical conditions and diseases, sports nutrition, antiageing, Ayurvedic Aid For Health Problems Of Women, Children & Rejuvination Therapies.